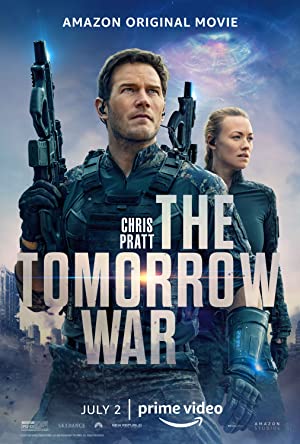 Rating: 6.6/10
Director: Chris McKay
Writer: Zach Dean
Actors: Chris Pratt, Yvonne Strahovski, J.K. Simmons
Runtime: 2:18
Rated: PG-13
Genre: Action, Adventure, Drama
Released: 02 Jul 2021
Plot: A family man is drafted to fight in a future war where the fate of humanity relies on his ability to confront the past.
So I decided to try something fun with this one. Since this movie has realistically 5 completely separate styles that get pretty close to lining up on the 30-minute marks, I decided to create essentially 5 separate drinking games, focused around the 5 separate 30-minute sections. If you like it, throw something down in the comments! If you really don't like this I did create a traditional type of game as well that you'll find below this one.
1st half hour –
Dan's past military experience comes up
Dan attempts to teach something
Someone says "draft"
2nd half hour –
Someone says "Whitespike"
We get a piece of the puzzle about Whitespikes or where they came from
Someone gets hit with a spike
Upgrade this game to a
Sloshed
difficulty level:
3rd half hour –
Someone says "female"
We get a piece of the puzzle about Whitespikes or where they came from
Upgrade this game to a
Sloshed
difficulty level:
Each PCR test that completes
Upgrade this game to a
Dead
difficulty level:
4th half hour –
Someone says "toxin", "future", or "China"
We get a piece of the puzzle about Whitespikes or where they came from
Upgrade this game to a
Dead
difficulty level:
5th half hour –
Dan or his father get a successful hit on the female
Someone says "future"
Traditional Game
Dan attempts to teach something
Someone says "Whitespike", "draft", or "toxin"
We get a piece of the puzzle about Whitespikes or where they came from
Someone gets hit with a spike
Upgrade this game to a
Sloshed
difficulty level:
Upgrade this game to a
Dead
difficulty level:
ALTERNATE GAME OPTION
(
Buzzed
Difficulty):
Someone says "jump"
Drink every time one of the events listed happens. (unless otherwise directed)
Include optional rules (if present) to increase difficulty
Buzzed – 2-3 drinks
Drunk – 3-4 drinks
Sloshed – 4-5 drinks
Dead – more than 6 drinks