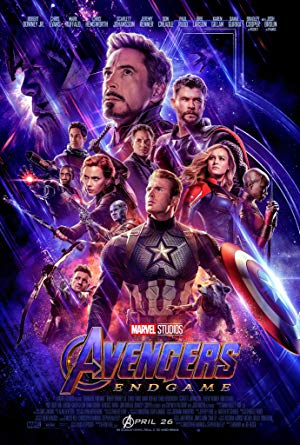 Rating: 8.6/10
Director: Anthony Russo, Joe Russo
Writer: Christopher Markus (screenplay by), Stephen McFeely (screenplay by), Stan Lee (based on the Marvel comics by), Jack Kirby (based on the Marvel comics by), Jim Starlin (Thanos, Gamora & Drax created by), Jack Kirby (Groot created by)
Actors: Robert Downey Jr., Chris Evans, Mark Ruffalo, Chris Hemsworth
Runtime: 3:01
Rated: PG-13
Genre: Action, Adventure, Sci-Fi
Released: 2019-04-26
Plot: After the devastating events of Avengers: Infinity War (2018), the universe is in ruins. With the help of remaining allies, the Avengers assemble once more in order to reverse Thanos' actions and restore balance to the universe.
Someone travels in The Guardians' ship
Someone says "space", "lost", or "time travel"
Scott says "quantum"
Multiples of one character in a single scene
Someone shows up in the past that's already dead (not "vanished" from the snap)
The glove/gauntlet changes hands
Upgrade this game to a
Sloshed
difficulty level:
ALTERNATE GAME OPTION
(
Drunk
Difficulty):
Someone says "Stones"
OR
Someone says "Thanos"
OR
Do both for a "Sloshed" difficulty.
*Difficulty has been slightly adjusted for this movie because it is 3 hours long.
Drink every time one of the events listed happens. (unless otherwise directed)
Include optional rules (if present) to increase difficulty
Buzzed – 2-3 drinks
Drunk – 3-4 drinks
Sloshed – 4-5 drinks
Dead – more than 6 drinks
Streaming Services This Movie Is Available On: