Back to the Future Part III (1990)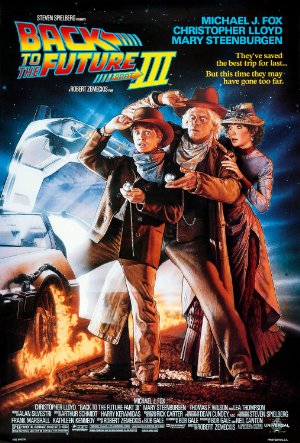 Rating: 7.4/10
Director: Robert Zemeckis
Writer: Robert Zemeckis (characters), Bob Gale (characters), Robert Zemeckis (story), Bob Gale (story), Bob Gale (screenplay)
Actors: Michael J. Fox, Christopher Lloyd, Mary Steenburgen, Thomas F. Wilson
Runtime: 1:58
Rated: PG
Genre: Adventure, Comedy, Sci-Fi
Released: 1990-05-25
Plot: Enjoying a peaceable existence in 1885, Doctor Emmet Brown is about to be killed by Buford "Mad Dog" Tannen. Marty McFly travels back in time to save his friend.
Someone says "Back to the future", "Time Machine", or "Mad Dog"
Doc Brown says "Great Scott!"
Marty borrows something from modern-day westerns
One of Doc Brown's inventions/innovations shows up
Someone calls Marty a coward in some fashion
One of Tannon's guys corrects/helps him
Drink every time one of the events listed happens. (unless otherwise directed)
Include optional rules (if present) to increase difficulty
Buzzed – 2-3 drinks
Drunk – 3-4 drinks
Sloshed – 4-5 drinks
Dead – more than 6 drinks
Streaming Services This Movie Is Available On: