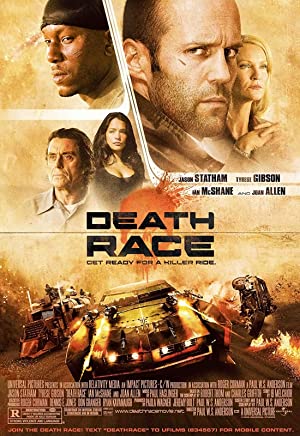 Rating: 6.4/10
Director: Paul W.S. Anderson
Writer: Paul W.S. Anderson, Robert Thom, Charles B. Griffith
Actors: Jason Statham, Joan Allen, Tyrese Gibson
Runtime: 1:45
Rated: R
Genre: Action, Sci-Fi, Thriller
Released: 22 Aug 2008
Plot: Ex-con Jensen Ames is forced by the warden of a notorious prison to compete in our post-industrial world's most popular sport: a car race in which inmates must brutalize and kill one another on the road to victory.
Races (well technically race stages. you know what I mean)
A driver dies
Someone says "tombstone", "wife", or "mask"
Ames gets in a fight
Pachenko gives the finger gun
The Death Race announcer speaks up
Upgrade this game to a
Sloshed
difficulty level:
Upgrade this game to a
Dead
difficulty level:
ALTERNATE GAME OPTION
(
Drunk
Difficulty):
ALTERNATE GAME OPTION
(
Sloshed
Difficulty):
Drink every time one of the events listed happens. (unless otherwise directed)
Include optional rules (if present) to increase difficulty
Buzzed – 2-3 drinks
Drunk – 3-4 drinks
Sloshed – 4-5 drinks
Dead – more than 6 drinks