How to Lose a Guy in 10 Days (2003)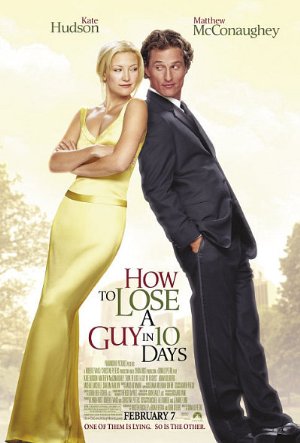 Rating: 6.4/10
Director: Donald Petrie
Writer: Michele Alexander (book), Jeannie Long (book), Kristen Buckley (screenplay), Brian Regan (screenplay), Burr Steers (screenplay)
Actors: Kate Hudson, Matthew McConaughey, Kathryn Hahn, Annie Parisse
Runtime: 1:56
Rated: PG-13
Genre: Comedy, Romance
Released: 2003-02-07
Plot: Benjamin Barry is an advertising executive and ladies' man who, to win a big campaign, bets that he can make a woman fall in love with him in 10 days. Andie Anderson covers the "How To" beat for "Composure" magazine and is assigned to write an article on "How to Lose a Guy in 10 days." They meet in a bar shortly after the bet is made.
Ben acts overconfident/cocky
Andie does something psycho, whiny, annoying, or clingy for the bet
Ben and Andie are real with each other (in a moment)
Someone says "DeLauer" or "diamond"
Upgrade this game to a
Sloshed
difficulty level:
Drink every time one of the events listed happens. (unless otherwise directed)
Include optional rules (if present) to increase difficulty
Buzzed – 2-3 drinks
Drunk – 3-4 drinks
Sloshed – 4-5 drinks
Dead – more than 6 drinks
Streaming Services This Movie Is Available On: