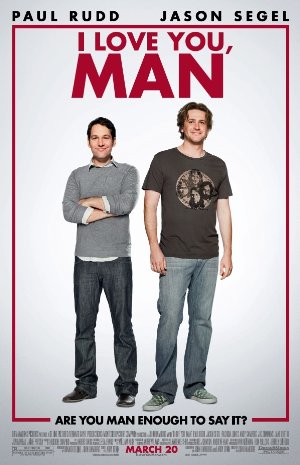 Rating: 7.0/10
Director: John Hamburg
Writer: John Hamburg (screenplay), Larry Levin (screenplay), Larry Levin (story)
Actors: Paul Rudd, Rashida Jones, Sarah Burns, Greg Levine
Runtime: 1:45
Rated: R
Genre: Comedy, Romance
Released: 2009-03-20
Plot: Friendless Peter Klaven goes on a series of man-dates to find a Best Man for his wedding. But, when his insta-bond with his new B.F.F. puts a strain on his relationship with his fiancée, can the trio learn to live happily ever after?
Zooey, Hailey, and Denise or Peter and Sydney overshare with each other (aka girl-talk)
Peter gets embarrassed or goes on a "man-date"
Someone says "I Love You"
Doug shows up
Sydney explains his point of view to Peter
Someone steps in Anwar's shit
Rush lyrics are vocalized
Drink every time one of the events listed happens. (unless otherwise directed)
Include optional rules (if present) to increase difficulty
Buzzed – 2-3 drinks
Drunk – 3-4 drinks
Sloshed – 4-5 drinks
Dead – more than 6 drinks
Streaming Services This Movie Is Available On: