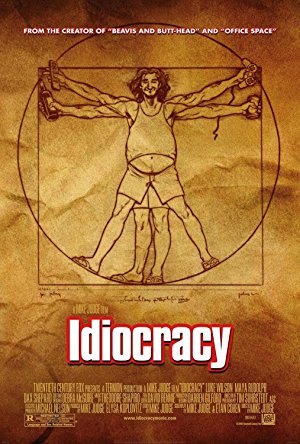 Rating: 6.6/10
Director: Mike Judge
Writer: Mike Judge (story), Mike Judge (screenplay), Etan Cohen (screenplay)
Actors: Luke Wilson, Maya Rudolph, Dax Shepard, Terry Crews
Runtime: 1:24
Rated: R
Genre: Adventure, Comedy, Sci-Fi
Released: 2007-01-25
Plot: Private Joe Bauers, the definition of "average American", is selected by the Pentagon to be the guinea pig for a top-secret hibernation program. Forgotten, he awakes five centuries in the future. He discovers a society so incredibly dumbed down that he's easily the most intelligent person alive.
The narrator speaks up
Someone says "Upgrayedd", "Carl's Jr.", or "Time Machine"
The "Ow My Balls" guy takes a shot to the balls
Someone references water and toilet in the same sentence
Joe/Not Sure gets maced
Drink every time one of the events listed happens. (unless otherwise directed)
Include optional rules (if present) to increase difficulty
Buzzed – 2-3 drinks
Drunk – 3-4 drinks
Sloshed – 4-5 drinks
Dead – more than 6 drinks
Streaming Services This Movie Is Available On: