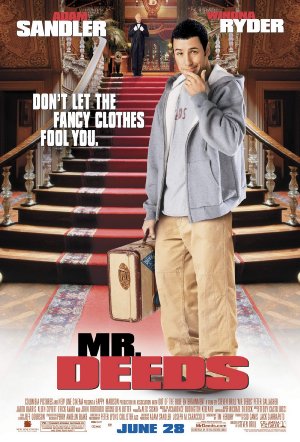 Rating: 5.8/10
Director: Steven Brill
Writer: Clarence Budington Kelland (short story "Opera Hat"), Robert Riskin (film Mr. Deeds Goes to Town), Tim Herlihy (screenplay)
Actors: Adam Sandler, Winona Ryder, John Turturro, Allen Covert
Runtime: 1:36
Rated: PG-13
Genre: Comedy, Romance
Released: 2002-06-28
Plot: A sweet-natured, small-town guy inherits a controlling stake in a media conglomerate and begins to do business his way.
Someone says "Preston Blake"
Deeds doesn't care about money/is carefree about financial matters
Deeds recites a greeting card
Deeds gets someone to cut loose
Emilio sneaks up on someone
Deeds takes charge of a situation
Babe/Pam tells Deeds a lie
Someone roots for/appreciates Deeds
Babe/Pam works to make things right
Upgrade this game to a
Sloshed
difficulty level:
OR
Upgrade this game to a
Dead
difficulty level:
Change the OR in the Sloshed upgrade to an AND.
Drink every time one of the events listed happens. (unless otherwise directed)
Include optional rules (if present) to increase difficulty
Buzzed – 2-3 drinks
Drunk – 3-4 drinks
Sloshed – 4-5 drinks
Dead – more than 6 drinks