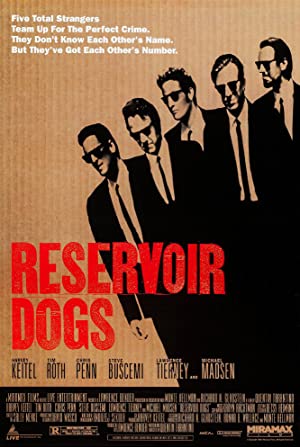 Rating: 8.3/10
Director: Quentin Tarantino
Writer: Quentin Tarantino, Quentin Tarantino (background radio dialogue written by), Roger Avary (background radio dialogue written by)
Actors: Harvey Keitel, Tim Roth, Michael Madsen, Chris Penn
Runtime: 1:39
Rated: R
Genre: Crime, Drama, Thriller
Released: 02 Sep 1992
Plot: When a simple jewelry heist goes horribly wrong, the surviving criminals begin to suspect that one of them is a police informant.
Everyone picks a character and drinks every time that character:

Smokes
Swears
Drinks (anything)
Kills somebody
Says diamonds (or stones)
Is killed

Pick a new one when yours dies
Few tips:
Do not use Joe, Holdaway, or Marvin's characters, doesn't seem to work with them.
Consider Blue and Brown dead from the first time that anyone says they're dead (don't wait to actually see it on-screen)
It's a bit wonky, don't expect drink numbers to be even for all combinations, I've played this one only drinking enough for a "Buzzed" level and I've also played it drinking enough to easily put me in the "Sloshed" or even "Dead" category.
I've had this one on the list for a while, it's actually not my own, it's from a WatchMojo video that I watched when I first started this. Found here: https://www.youtube.com/watch?v=XRRTi1FxRPM
Drink every time one of the events listed happens. (unless otherwise directed)
Include optional rules (if present) to increase difficulty
Buzzed – 2-3 drinks
Drunk – 3-4 drinks
Sloshed – 4-5 drinks
Dead – more than 6 drinks
Streaming Services This Movie Is Available On: