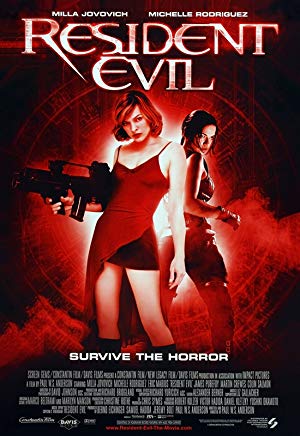 Rating: 6.7/10
Director: Paul W.S. Anderson
Writer: Paul W.S. Anderson
Actors: Ryan McCluskey, Oscar Pearce, Indra Ové, Anna Bolt
Runtime: 1:40
Rated: R
Genre: Action, Horror, Sci-Fi
Released: 15 Mar 2002
Plot: A special military unit fights a powerful, out-of-control supercomputer and hundreds of scientists who have mutated into flesh-eating creatures after a laboratory accident.
Someone says "umbrella", "Red Queen", or "T Virus"
Something with the Umbrella logo/brand on it (drink once for each type of thing, i.e. crate, wall, door, etc. not every logo)
Alice has a flashback/remembers something
3D Map
One of the team dies
Someone gets bit
Upgrade this game to a
Sloshed
difficulty level:
We see the camera view (i.e. the Red Queen's view)
OR
Upgrade this game to a
Dead
difficulty level:
Drink every time one of the events listed happens. (unless otherwise directed)
Include optional rules (if present) to increase difficulty
Buzzed – 2-3 drinks
Drunk – 3-4 drinks
Sloshed – 4-5 drinks
Dead – more than 6 drinks