Rise of the Guardians (2012)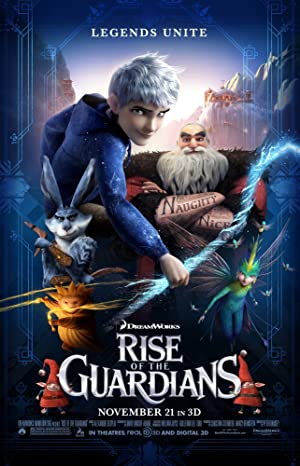 Rating: 7.3/10
Director: Peter Ramsey
Writer: David Lindsay-Abaire (screenplay), William Joyce (based on the book series "Guardians of Childhood" by)
Actors: Chris Pine, Alec Baldwin, Jude Law, Isla Fisher
Runtime: 1:37
Rated: PG
Genre: Animation, Action, Adventure, Comedy, Family, Fantasy, Sci-Fi
Released: 21 Nov 2012
Plot: When the evil spirit Pitch launches an assault on Earth, the Immortal Guardians team up to protect the innocence of children all around the world.
Jack Frost's memories (or lack of) come up
Someone says "moon", "fear", or "nightmare"
Pitch Black shows up
Bunny makes a hole appear
An elf falls off a shelf, in a hole, gets frozen, etc.
Jack inspires fun (eye twinkles)
Tooth says "teeth"
ALTERNATE GAME OPTION (Drunk Difficulty): – Easter Themed!
Bunny makes a hole appear
There's an egg in a scene
Someone says "egg" or "Easter"
Bunny throws his boomerang
Drink every time one of the events listed happens. (unless otherwise directed)
Include optional rules (if present) to increase difficulty
Buzzed – 2-3 drinks
Drunk – 3-4 drinks
Sloshed – 4-5 drinks
Dead – more than 6 drinks