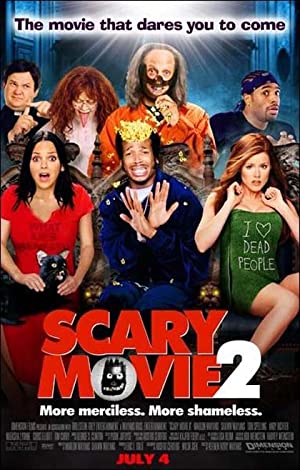 Rating: 5.3/10
Director: Keenen Ivory Wayans
Writer: Shawn Wayans, Marlon Wayans, Buddy Johnson
Actors: Anna Faris, Marlon Wayans, Antony Acker
Runtime: 1:23
Rated: R
Genre: Comedy, Horror
Released: 04 Jul 2001
Plot: Four teens are tricked by Professor Oldman (Tim Curry) into visiting a haunted house for a school project.
Fog rolls in
Someone dies (presumably)
Wedgies
Someone offers to help Dwight but he refuses
Buddy gets rough with Cindy
Someone talks to the bird
Hanson touches someone with his gross hand
Mr Kittles shows up
Someone says "possess" or "ghost"
Upgrade this game to a
Sloshed
difficulty level:
OR
OR
For each movie parodied.**
Upgrade this game to a
Dead
difficulty level:
Any two of the three Sloshed rules.
**For movies parodied, I'm sure I missed plenty, but I counted: Exorcist, Chucky, Thirteen Ghosts, Titanic, Dirty Harry, Silence of the Lambs, Charlie's Angels
Drink every time one of the events listed happens. (unless otherwise directed)
Include optional rules (if present) to increase difficulty
Buzzed – 2-3 drinks
Drunk – 3-4 drinks
Sloshed – 4-5 drinks
Dead – more than 6 drinks