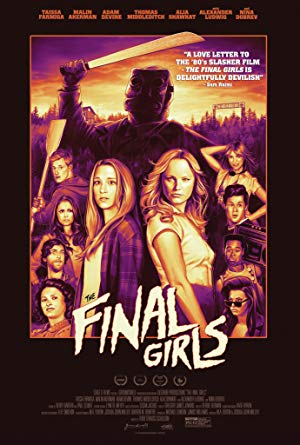 Rating: 6.6/10
Director: Todd Strauss-Schulson
Writer: M.A. Fortin, Joshua John Miller
Actors: Taissa Farmiga, Malin Akerman, Alexander Ludwig, Nina Dobrev
Runtime: 1:28
Rated: PG-13
Genre: Comedy, Horror
Released: 2015-11-05
Plot: A young woman grieving the loss of her mother, a famous scream queen from the 1980s, finds herself pulled into the world of her mom's most famous movie. Reunited, the women must fight off the film's maniacal killer.
We hear Billy's noise
A vehicle comes driving up
Someone dies
Someone says Camp Bloodbath, virgin, or Final Girl
Movie magic happens
Duncan calls something before it happens
Drink every time one of the events listed happens. (unless otherwise directed)
Include optional rules (if present) to increase difficulty
Buzzed – 2-3 drinks
Drunk – 3-4 drinks
Sloshed – 4-5 drinks
Dead – more than 6 drinks
Streaming Services This Movie Is Available On: