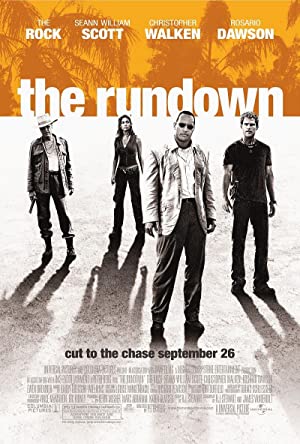 Rating: 6.7/10
Director: Peter Berg
Writer: R.J. Stewart (story), R.J. Stewart (screenplay), James Vanderbilt (screenplay)
Actors: Dwayne Johnson, Seann William Scott, Rosario Dawson, Christopher Walken
Runtime: 1:44
Rated: PG-13
Genre: Action, Adventure, Comedy, Thriller
Released: 26 Sep 2003
Plot: A tough aspiring chef is hired to bring home a mobster's son from the Amazon but becomes involved in the fight against an oppressive town operator and the search for a legendary treasure.
Beck gives someone options
Beck gets into a fight with a group of people
Someone says "mine", "jungle", or "deal"
Beck handcuffs Travis
Beck punches Travis in the face
Upgrade this game to a
Sloshed
difficulty level:
Someone uses a word for airport (airstrip, airfield, etc.)
Upgrade this game to a
Dead
difficulty level:
Upgrade this game to a Dead difficulty level: Super Dead.
ALTERNATE GAME OPTION
(
Buzzed
Difficulty):
Someone says "restaurant" or "Gato"
Drink every time one of the events listed happens. (unless otherwise directed)
Include optional rules (if present) to increase difficulty
Buzzed – 2-3 drinks
Drunk – 3-4 drinks
Sloshed – 4-5 drinks
Dead – more than 6 drinks