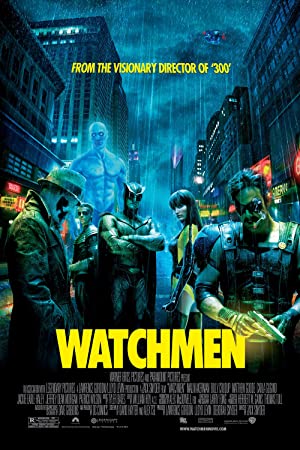 Rating: 7.6/10
Director: Zack Snyder
Writer: David Hayter (screenplay), Alex Tse (screenplay), Dave Gibbons (graphic novel illustrator)
Actors: Malin Akerman, Billy Crudup, Matthew Goode, Jackie Earle Haley
Runtime: 2:42
Rated: R
Genre: Action, Drama, Mystery, Sci-Fi
Released: 06 Mar 2009
Plot: In 1985 where former superheroes exist, the murder of a colleague sends active vigilante Rorschach into his own sprawling investigation, uncovering something that could completely change the course of history as we know it.
*This game has been adjusted for time, it's also a bit of a handful*
Smiley face pin is in a scene
Nixon appears in a scene
Doomsday clock reference
Someone says "Rorschach's Journal", "mask", or "pyramid"
Minuteman 1940 picture is in a scene
Dr. Manhattan tells someone what they're going to say or going to happen
Dr. Manhattan teleports someone/thing
Rorschach kicks some ass
Upgrade this game to a
Sloshed
difficulty level:
ALTERNATE GAME OPTION
(
Drunk
Difficulty):
Someone says "Dr. Manhattan", "Rorschach", "Comedian"
If you're watching the Ultimate Cut, add in these rules.
There's an animated cutaway scene
Someone says "Ridley" or "Freighter"
Drink every time one of the events listed happens. (unless otherwise directed)
Include optional rules (if present) to increase difficulty
Buzzed – 2-3 drinks
Drunk – 3-4 drinks
Sloshed – 4-5 drinks
Dead – more than 6 drinks